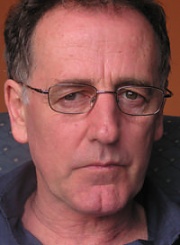 Robert Fannin was born in Dublin in 1954 and left school at 15 to go to sea. In his varied career, he has worked as a cartoonist, illustrator, radio presenter, sign writer, fisherman and professional yacht skipper. As a freelance journalist Bob Fannin has been published in the The Guardian and The Times as well as most of the world's major yachting magazines.
The first stage play he wrote, In a different Light toured the east coast of the US in1996 culminating in a three week run at the off-Broadway theatre The Playquest in Manhattan. The same play was performed during the Dublin Theatre Festival in 1997.
His ten minute short Egg was screened by BBC Wales in 1998 and in 2003 BBC Radio 4 broadcast his play Waiting for Concorde.
He is presently studying Drama and English at The University of the West of England in Bristol as well as editing his first novel Shooting the Moon which will be published in trade paperback by Hachette in spring 2009. He lives in Bristol with his wife and two children.