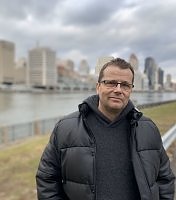 Paul Howard is a multi-award-winning journalist, author, playwright, comedian and screenwriter. He is best known in his native Ireland as the creator of Ross O'Carroll-Kelly, a fictional rugby jock whose exploits have been the subject of 19 satirical novels that have sold more than one million copies and won three Irish Book Awards.
He is the author of four hugely successful Ross O'Carroll-Kelly plays, which enjoyed long, sell-out runs and remounts in Dublin, Cork and Limerick. He also wrote the book and lyrics for two successful musicals: 'Anglo: The Musical', a puppet-based comedy about the collapse of Ireland's banks, in 2012; and 'Copper Face Jacks: The Musical', which enjoyed sell-out runs in 2018 and 2019.
In 2016, his biography of Tara Browne, the Irish-born Guinness heir, who was immortalized in The Beatles' song 'A Day in the Life', was published by Picador. It won the Best Non-Fiction award at the 2016 Irish Book Awards, was described as "a masterpiece" by the Irish Times and was optioned by a major film studio. He has recently completed work on the screenplay for the movie and it's hoped that production will begin in 2019.
He has worked on several other TV and film projects. In 2016, he was commissioned to write the screenplay for a movie about the life of Bob Geldof for a well-known producer. In 2017, he wrote 'Just Not Cricket', a family feature, filming of which is expected to begin in 2019.
In 2014, he was commissioned by US network E! to write a pilot for a sitcom he devised called 'The Cliterati'. He has also written a six-part TV comedy about the character Ross O'Carroll-Kelly for a UK-based production company.
He has written comedy for radio and television and was one of the main sketch writers on the twice IFTA-nominated satirical TV show 'Irish Pictorial Weekly', as well as 'The Mario Rosenstock Show'.
In 2017, he was commissioned by The Abbey, Ireland's national theatre, to write a play, 'Kieran Crossan is Going to Die', which will be staged in 2019.
His satirical football memoir, 'Triggs – The Autobiography of Roy Keane's Dog', was a number one bestseller in 2012 and was shortlisted for an Irish Book Award.
Before he embarked on a career as a novelist, playwright and screenwriter, he was one of Ireland's most respected sports journalists, covering World Cups, Olympic Games and numerous other major sporting events for The Sunday Tribune. He was named Irish Sports Journalist of the Year in 1998.
Additionally, he was the author of several best-selling non-fiction books, including The Joy (the true story of an inmate's life in Dublin's Mountjoy Prison), The Gaffers (an account of the fractious relationship between Roy Keane and Mick McCarthy) and Hostage (a book about the IRA kidnappings in the 1970s and 1980s). He also ghostwrote the autobiographies of boxer Steve Collins (Celtic Warrior) and broadcaster George Hook (Time Added On).
Click here to visit the official Ross O'Carroll-Kelly website for Ross news, downloads, links and much more besides!
You can follow Ross on Twitter by clicking here.
You can visit Ross's page on Facebook by clicking here.