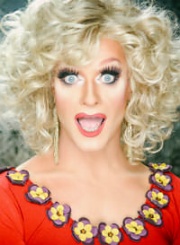 Panti is Ireland's foremost "gender discombobulist" and "accidental activist."
She began performing while an art student in the late 80's before moving to Tokyo and becoming a fixture on the Tokyo club.
Returning to Dublin in 1995 she ran some of Dublin's seminal club nights, hosted the legendary Alternative Miss Ireland for 18 years, and performed all over the world.
Panti has written and performed three critically acclaimed, hit theatre shows: In These Shoes, All Dolled Up and A Woman in Progress. In 2013,All Dolled Up: Restitched, a reimagining of her three hit shows had a sold out run at the Abbey Theatre and toured Australia.
She is also the landlady of Pantibar.
In January 2014 Panti's creator Rory O'Neill sparked a national furore when he appeared on RTE television and named certain individuals and organisations as homophobic. The ensuing scandal became known as "Pantigate".
On Feb 1st Panti took to the stage of the National Theatre to defend herself. Her ten minute oration has been compared to some of the great speeches in the English language and a video of the speech went viral online, was broadcast on TV and radio around the world, and became an international sensation. It was also put to music by pop royalty, Pet Shop Boys.
In October 2014, Hachette Books will publish Panti's memoir, A Woman in the Making.