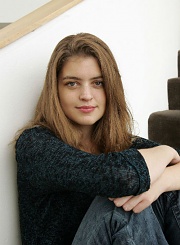 Orla Tinsley is a 24 year old campaigner and journalist from Newbridge,
Co.Kildare. She began campaigning for cystic fibrosis patients rights in The
Irish Times in 2005. In 2008 she received the Rehab Young Person of The Year
Award and the specially created Youth Work Ireland Award for excellence. In
2009 she was named Overall Woman of the Year by magazine Irish Tatler and
that same year signed a contract with Hachette Ireland. In 2010 she
received the Armark Healthcare Award for Excellence in Advocacy and the
Pfizer Young Medical Journalist of the Year Award. She continues to campaign
for the provision of proper services for people with cystic fibrosis . She
is a freelance journalist for The Irish Times. Her memoir Salty Baby has just been published in Ireland by Hachette where it immediately entered the bestseller lists.