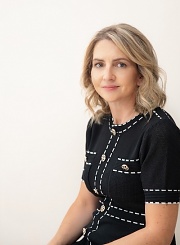 Michelle McDonagh has been writing stories since she was a child in primary school, and it has al-ways been her dream to write a novel. After far too many years of intense procrastination, she en-rolled in the Faber Academy's six month Write a Novel online course in 2019 and decided to step back from journalism for a while to focus on finally finishing her first novel. Her debut novel There's Something I Have To Tell You will be published by Hachette in April 2023.
She has over 25 years' experience as a journalist. She writes freelance for The Irish Times and a number of other publications. She graduated from University College Galway in 1993 with a BA (Hons) followed in 1994 with a post-graduate Higher Diploma in Applied Communications.
She worked as a staff reporter with The Connacht Tribune in Galway for 12 years, before moving to Cork and going freelance. She worked for all of the Irish national and tabloid papers covering news and courts, before switching solely to features and health, mainly for The Irish Times, following the birth of her first child. She is married with three children aged 10 to 13, and a very cute Cavapoo dog.