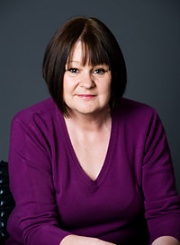 Limerick writer, Helena Close, has published four novels under the pseudonym Sarah O'Brien with co-writer, Trisha Rainsford. She has also written threenovels under her own name.
The Sarah O'Brien novels are:
Hot Property (Hodder Headline 2003)
Gazumped(Hodder Headline 2004)
Love Happens (Hodder Headline 2005)
A Girl Thing (Hodder Headline 2006)
Helena Close:
Pinhead Duffy (Blackstaff Press, 2005)
The Cut of Love (Hachette Ireland, 2009)
Helena is currently co-writing a comedy drama TV series with Trisha
Rainsford, and her next novel, The Clever One, will be published in March
2010 by Hachette.