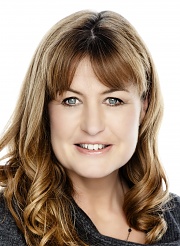 Fiona Looney has had five stage plays professionally produced: Dandelions (Olympia Theatre, Dublin and Cork Opera House, 2005 and 2006), October (Olympia Theatre, Dublin and Cork Opera House, 2009), Nuts and Bolts (Bewley's Theatre, Dublin 2011 and Viking Theatre, Dublin 2012), Greener (Gaiety Theatre, Dublin 2012) and Are You There, Garth? It's Me Margaret (Gaiety Theatre, Dublin, October 2015).
She's had two short plays produced at The Abbey Theatre for 24 Hour Plays for DYT: It's The End of the World and I Feel Hungry (2013) and Lads, We Can't Afford To Feed It Anymore (2017).
She has written three pantomimes (Olympia Theatre, Dublin, 2011 – 2013).
On radio, she has had two plays, Golf Widows (2002) and Bombshell (2015) produced. The latter was shortlisted for both the BBC International Playwright Award and the PJ O'Connor Award.
A television play, Pheasant Island, was produced by RTE in 2014.
Her other television writing credits include The Fast Show (BBC1), No Limits (Sky One) and Callan's Kicks (RTE1).
Her radio comedy writing credits include two series of The Monica Moody Show, nine series of Callan's Kicks, two series of Backchat and more than 2,000 nightly reflections, as Amelia Golightly, all for RTE. A comedy sketch show, Waiting, recorded in The Project Arts Centre in June, will be broadcast this Autumn.
In film, she wrote Dustin's Fowl Play for Warner Bros.