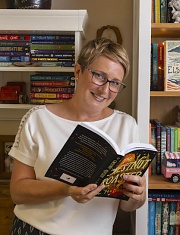 Eve is a children's author and artist who lives halfway up a hill in north Co Wexford. Her debut middle-grade book, Elsetime, was published in the UK by Everything With Words in 2020 with translations in German and Russian. Elsetime won the Book for Children Award at the Wells Festival of Literature and was short-listed in the UK Spellbinding Awards and the Awesome Book Awards. Eve's second novel, The Chestnut Roaster, was published in 2022 and was a Book of the Year with The Guardian, The Sunday Times, The Sunday Independent, the Irish Examiner and the Irish Independent, and was selected as Times Book of the Week. Eve's next book, The Last Boy, is due for release in autumn 2024.
In addition to writing children's books, Eve is a graphic designer and creative writing teacher, facilitating creative writing and crafting workshops to libraries, schools and festivals. Eve was the Festival Producer for the WonderFest Children's Book Festival in Ireland and is proudly part of the #DiscoverIrishKidsBooks crew. She can be found posting about all things bookish via Instagram and X @Eve_Mc_Donnell. See reviews and more details on Eve's journey to publication, inspiration behind her writing and variety of events available at www.evemcdonnell.com .
Praise for The Chestnut Roaster:
The Times: CHILDREN'S BOOK OF THE WEEK. "Unforgettable!" Full review .
The Guardian / Observer: CHILDREN'S BOOKS OF THE YEAR 2022 "A pacy feast for the senses, dizzyingly illustrated by Ewa Beniak-Haremska." Full review .
Irish Independent: CHILDREN'S BOOKS OF THE YEAR 2022 "The plot is as clever and twisting as the catacombs themselves. Perfect for fantasy adventure fans." Sarah Webb Full review .
The Sunday Times Ireland: "An unstoppable romp that deserves to become a beloved classic." Méabh McDonnell Charlie Byrne's Bookshop. Full review .
Irish Examiner: CHILDREN'S BOOKS OF THE YEAR 2022 "A mesmerising blend of history and fantasy." Eibhlís Carcione
The Sunday Independent: TEEN/YA CHILDREN'S BOOKS OF THE YEAR 2022 "Richly imagined." Justine Carbery