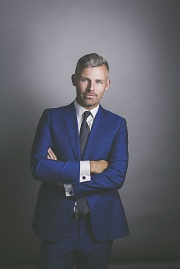 Acclaimed comedian. Des Bishop's first book, My Dad was Nearly James Bond, was published in autumn 2011 by Penguin Ireland. It is a memoir based on his hugely successful eponymous stage show:
"A totally compelling story about a father's sacrifices, and the midlife
awakening of an errant son… He brings honesty perceptiveness and
thirty-five years' worth of bottled-up love" from the Guardian on the stage
show, My Dad Was Nearly James Bond.
For years acclaimed comedian Des Bishop wanted to write a show about his father. Mike Bishop was a model and actor who gave up that life to become a hard-working man of the suburbs – a good husband, a caring father, a responsible citizen. Still, he sometimes talked wistfully about the the glamourous life he might have had.
All that changed after Mike was diagnosed with terminal cancer in late 2009. His regrets about his fantasy other life crumbled. He cherished his family and they came together to surround him with love, laughter, tears and talk. Lots of talk.
The insights that emerged during Mike Bishop's illness became the dhow his son always wanted to stage. He and his father collaborated on My Dad Was Nearly James Bond – a hilarious, outrageous and moving celebration of what Des calls 'the heroics of fatherhood'. The show has attracted rave reviews and sell-out audiences around the world.
Mike Bishop died in February 2011. Now Des has written a memoir inspired by the stage show, by the startling discoveries he made about his father's background before he died, and by his own realisation of what it means to finally grow up. The book is a funny, wise and unforgetabble story of a father, a son and what really matters.
Praise for the show My Dad Was Nearly James Bond:
"One of the most funny, moving and satisfying hours of comedy you're likely to see this year. Deeply personal and touching yet never over-emotional, this is truly inspiring." TIME OUT
"Will make you heart soar as you laugh your socks off and feel your hear squeezed….a show about family, growing up and dealing with life's big moments." Chortle.co.uk