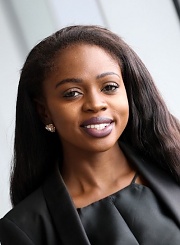 Deborah Somorin ACA, Social Entrepreneur featured on the 2020 Forbes 30 under 30 list alongside activists like Greta Thunberg.
Deborah won the JCI Dublin Ten Outstanding Young Persons award for 2018 and the JCI Ireland Ten Outstanding Young Persons award for 2018, both in the Humanitarian and/or voluntary leadership category. JCI is an international network for young leaders and John F. Kennedy was a member of the Irish branch. In 2019, Deborah was awarded the Inspiration Award by Chartered Accountants Ireland. She was also awarded, one of Fire Restaurants, Women of the Year for 2019, by the Lord Mayor of Dublin, Nial Ring.
In 2018, Deborah founded a not for profit called Empower the Family (ETF). ETF plan to open student accommodation, in Dublin, with onsite quality childcare for single parents between 18-23 attending university. This social enterprise will support Ireland's commitment to accomplishing 10 of the 17 United Nations Sustainable Development Goals. Deborah's work in this area earned her a spot on the prestigious 2020 Forbes 30 under 30 list alongside activists like Greta Thunberg. ETF was the only female-led organisation in Ireland to make the list in 2020.
Deborah Somorin is a qualified Chartered Accountant, who trained with PwC. She is currently a Consultant & Assistant Manager in PwC's Advisory practice.
Deborah completed a degree in Accounting and Finance at DCU in 2014. She then went on to complete a Masters in Accounting in DCU in 2015 which helped earn her a place at PwC. She received two scholarships while at university to enable her to complete her studies.
Deborah also currently sits on the board of directors for Chartered Accountants Support (which supports members and students of Chartered Accountants Ireland), the Chartered Accountants Ireland Diversity and Inclusion Committee, and the RTÉ Youth Advisory Committee.
In her spare time, Deborah enjoys playing video games with her son Liam, reading books and writing articles on Diversity and Social Entrepreneurship.