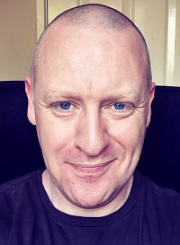 Damien Owens was born in Monaghan in 1971. His first novel, Dead Cat Bounce was published in 2001, and was followed a year later by Peter and Mary Have a Row. In 2008, The Bright Side was published under the name Alex Coleman. A second Alex Coleman novel, Little Black Everything, appeared in 2009.
Damien also created and wrote a TV comedy/drama called Trivia, two series of which were broadcast by RTE in 2011 and 2012.
In addition, he wrote several episodes of the animated children's show Brain Freeze, which has been broadcast by RTE and CBBC and acquired for international distribution by Aardman Animations.
Damien has also worked in radio, writing for the Newstalk comedy news show, You Couldn't Make It Up.
You can follow him on Twitter here and visit his website here.