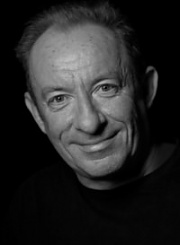 Born in Dublin some time ago, Damian Corless stacked supermarket shelves, pumped petrol, taught schoolkids and failed to become a rock star before falling into journalism. He joined Hot Press on a Fas course and ended up staying for six years. He moved on to take the Editor's seat at In Dublin, when it was good. He joined Magill as Stand-In Editor, later becoming Political Editor, Managing Editor and Former Editor. 
He has written television comedy sketches for BBC2's acclaimed Big Train and RTE's Stew. His acclaimed books include GUBUNation (2003), and You'll Ruin Your Dinner (2011). The Greatest Bleeding Hearts Racket In The World (2010) told the astonishing story of the Irish Hospitals Sweepstakes, the world's most successful and corrupt superlottery. The Sunday Times described it as "a brilliant piece of forensic work". The Mail On Sunday praised it as "fascinatingly readable". bq. Looks Like Rain – 9,000 Years of Irish Weather, published by in September 2013 by The Collins Press, is a lively, informative and humorous compendium that picks out incidents where the weather – inevitably bad – changed the course of Ireland's history. This book is proof (as if proof were needed) of our inexhaustible fascination with our immediate climactic conditions.
Find out …
How the Cork climate eventually killed Oliver Cromwell.
How the rogue Antrim weather gave us one of the most iconic album covers of all time (Led Zeppelin's Houses Of The Holy) entirely by accident.
How bad weather was responsible for witch hunts by Ireland's Protestants, while Catholic Ireland didn't go in for that sort of thing.
How the genius behind the world's first scientific weather forecasts (for Ireland and Britain) was hounded to suicide by chancer publishers and wicked shipping magnates.
How Arctic mirages fooled Irish monks into discovering Greenland.
And that's but the tiny tip of a very large iceberg of fascinating, entertaining and occasionally laugh-out-loud stories.