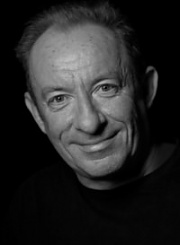 Born in Dublin, Damian Corless stacked supermarket shelves, pumped petrol, taught schoolkids and failed to become a rock star before falling into journalism. He joined Hot Press on a Fas course and ended up staying for six years, double-jobbing as MTV Europe's first Irish correspondent from its start-up in 1987. He moved on to the Editor's seat at the culture guide In Dublin, graduating to the current affairs monthly Magill, first as Stand-In Editor, then Political Editor, Managing Editor and Former Editor. As a contributor and columnist, he has written extensively for the Irish Independent, Evening Herald, Sunday Times, Irish Times, Irish Examiner and other publications. 
He has penned television comedy sketches for the BBC and RTE. Damian is the author of the 2015 Easter Rising stage comedy Death Wish '16 – The GPO. His acclaimed books include GUBU Nation (2003), You'll Ruin Your Dinner (Hachette, 2011) and Looks Like Rain (Collins, 2013). Hailed by The Sunday Times as "a brilliant piece of forensic work", The Greatest Bleeding Hearts Racket In The World (Gill Books, 2010) told the astonishing story of the Irish Hospitals Sweepstakes, the world's most successful and corrupt superlottery.
Damian was shortlisted for the 2019 An Post Irish Book Awards for his work as co-author of Christy Dignam's much-lauded autobiography My Crazy World which spent three weeks at No1 in the Irish bestseller list and became one of the best-selling titles of 2019.