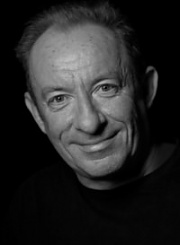 Born in Dublin in the rare oul times, Damian Corless stacked supermarket shelves, pumped petrol, taught schoolkids and failed to become a rock star before falling into journalism. He joined Hot Press on a Fas course and ended up staying for six years, double-jobbing as MTV Europe's first Irish correspondent from its start-up in 1987. He moved on to the Editor's seat at In Dublin, graduating to the current affairs monthly Magill, first as Stand-In Editor, then Political Editor, Managing Editor and Former Editor. 
He has written television comedy sketches for the BBC and RTE. Damian is the author of the 2015 Easter Rising stage comedy Death Wish '16 – The GPO. His acclaimed books include GUBU Nation (2003), You'll Ruin Your Dinner (2011) and Looks Like Rain (2013). Hailed by the Sunday Times as "a brilliant piece of forensic work", The Greatest Bleeding Hearts Racket In The World (2010) told the astonishing story of the Irish Hospitals Sweepstakes, the world's most successful and corrupt superlottery.
Published in September 2019 by Simon & Schuster, Christy Dignam's jaw-dropping autobiography My Crazy World is the result of a two-year collaboration between the singer and the writer. The two have known each other since the early 1980s when Damian's band New Career played support to Christy's Meelah XVIII at Dublin's legendary Ivy Rooms. Sometimes the hero, sometimes the villain, Christy Dignam has been a national figure in Ireland for more than three decades. In the 1980s, as the charismatic singer with Aslan, he seemed poised to follow U2 into the stratosphere of Planet Pop. Sensationally, it was not to be. Stardom was snatched away from within his grasp. Instead came heroin addiction, the terror of being stalked by a murderous debt-collector, and the disintigration of his marriage. My Crazy World is a truly uplifting and deeply funny account of a thousand lifetimes packed into one single extraordinary life.