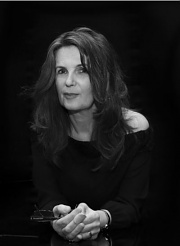 Christine Dwyer Hickey is an award winning novelist and short story writer.
Her novel The Cold Eye of Heaven( Atlantic Books) won the Irish Novel of the Year of the Year 2012, was shortlisted for the Irish Book Awards 2011 and nominated for the IMPAC 2013 award. Last Train from Liguria( Atlantic Books) was shortlisted for the Prix L'Européen de Littérature and Tatty( New Island Books and Vintage Books) was chosen as one of the 50 Irish Books of the Decade as well as being nominated for The Orange Prize and shortlisted for the Irish Book Awards novel of the year 2004. Her first novel The Dancer was shortlisted for Irish Novel of the Year.
She has won several short story awards and her first collection The House on Parkgate Street and other Dublin Stories( New Island Books) was published in 2013. Her first play, 'Snow Angels' premiered at the Project Theatre Dublin in 2014, and the text of same was published in March 2015 (New Island Books). Her seventh novel, The Lives of Women was published in 2015 by Atlantic Books.
Her short story, Back to Bones, was longlisted for the Sunday Times/EFG Award in February 2017, and won the Writing.ie Short Story Award at the 2017 Irish Book Awards.
Her brand new novel, The Narrow Land, was published in March 2019 and has recently been awarded the prestigious Walter Scott Prize , as well as novel of the year at the Dalkey Literary Awards .
She is a member of Aosdana.
Christine's novel, Tatty, is 2020 Dublin One City One Book Choice
For more info on Christine, visit her website, available here.