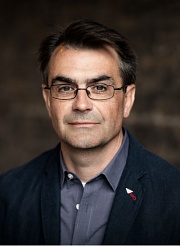 Charlie Pike started his writing career when he lived in Turkey, teaching English to adults and children. When he returned to Ireland he worked as an advertising copywriter and freelance journalist, writing feature articles for Irish newspapers, until an opportunity came along to work for an Internet start-up. In 2003 he formed his own web company, Usable Design. He met his wife, Birgit, in Turkey and they now live in County Wicklow. They have two children. Charlie is a graduate of Trinity College.
His debut YA science fiction novel, Jacob's Ladder, will be published in spring 2019.
About Jacob's Ladder( The O'Brien Press, April 2019)
The year is 2203, and Initiate Leon wakes early for his Rising. To come of age in his warrior culture he is expected to prove his ability to kill.
Leon lives on a dying earth, scorched by powerful solar flares. But a series of messages from an alien civilisation have promised refuge to those strong enough to survive on their planet. The last message will arrive any day now.
Out in the wild, Leon's mission quickly unravels, and he is forced to question everything he knows. Who are the alien saviours? What do the messages really say? Now he will need all his resources just to stay alive in the final violent struggle to escape the dying planet.