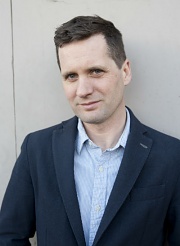 Brian is a journalist and broadcaster with RTÉ and well-known for his reporting on social issues and human interest stories. His first non-fiction book, Wasted (2009), examined Ireland's relationship with alcohol and was published by Gill & Macmillan. It has been regarded by many as an important book in helping to question accepted cultural associations with alcohol in Ireland.
Brian's second book, The Personals (2019), told the human stories behind the small ads, and was published by Harper Collins. It was shortlisted for the An Post Irish Book Awards Popular Non-Fiction Book of the Year 2019.
In a 20-year career, Brian has won multiple awards for his work, including the John Healy Award, two radio PPI Awards, four New York Radio Festival Awards and a Justice Media Award.
Brian has produced and presented several documentaries and programmes on RTÉ TV and Radio.
He lives in Blarney, County Cork, and is a reformed golfer and an avid runner!
Twitter: @oconnellbrian