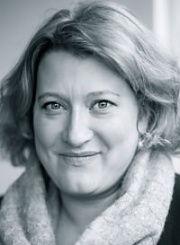 Antonia Hart is a freelance journalist and writer. She wrote The Gloss magazine's first cover story in 2006 and has been writing for it ever since as feature writer, interviewer, columnist and contributing editor. She's an occasional radio contributor and has reviewed books for RTE's Arena.
Antonia originally studied law at Trinity, and followed it up with a masters in journalism, then one in multimedia systems, and most recently an M.Phil in Creative Writing. She's had short fiction published in various anthologies, and a tiny play staged as part of the 2012 production Tiny Plays for Ireland.
Her first book is the non-fiction Ghost Signs of Dublin (autumn 2014), a look at the stories behind the abandoned or forgotten commercial signs which are an often unnoticed part of the cityscape, all gorgeously photographed by Lynn Nalty.
Antonia lives in Dublin with her husband and three children.