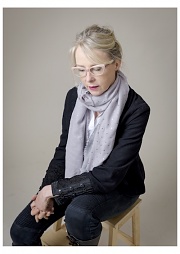 Adrienne's short play A Body was written for Fishamble's Tiny Plays for Ireland, first staged at the Project Arts Centre. Rachel O'Sullivan (from the Ad Astra Performing Arts Scholarship in UCD), performed this piece and released it online due to social distancing measures. It can be watched here .
Adrienne works as a filmmaker and a writer. Her background is in advertising where she worked as an Art Director before she embarked on directing commercials.
Her film credits include three International Award winning short films: Bye Bye Inkhead, Luka and Deposits, which were all funded by the Irish Film Board.
Her feature length script _A Good Thing_was nominated for the BBC Tony Doyle Screenwriting Award. Three of her feature film scripts were selected by developmental workshops, which include Moonstone International, Sources 2 and The Irish Film Board.
Her short play A Body was selected for the Tiny Plays For Ireland (from 1,700 entries) and was produced by Fishamble: The New Play Company. It was staged at the Project Theatre and is published as part of a collection of plays by New Island Books.
She has recently written a collection of poetic prose titled Body Pieces, a radio play called Turtled and a series of children's picture books about a character called BillyBob and his grumpy pet MicroGrub.
Her manuscript titled The Bed won a mentorship award from Words Ireland, Wicklow County Council and the Irish Writers' Centre. It was a Finalist in the Irish Writers Centre Novel Fair 2018 where it was selected for publication by Époque press.
Adrienne is presently working on her first novel The Bed.