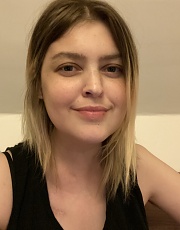 Orla Tinsley is an award-winning writer, educator, producer and activist.
Orla's voice and motivational speeches are regularly sought in Ireland and abroad and they are deeply passionate about motivating people. They have given talks at NYU, Fordham University, Columbia University and the Irish Center NY.
They have received numerous awards including Medical Journalist of the Year, Tatler Magazine's Woman of the Year, National Young Person of the Year and the American Ireland Funds "Spirit of Ireland" award.
Orla began writing about healthcare injustice for people with cystic fibrosis in Ireland at the age of 18 and immediately created a national impact with their writing in The Irish Times and interviews on key current affairs programs.
They are deeply passionate about social justice and education access, and they have an MFA from Columbia University where they began teaching Creative Writing in 2018. That same year they received the Human Rights Award from The Bar of Ireland for their lifelong work on organ donation as a healthcare activist and educator. In 2019 The Public Institute of Ireland awarded them the lifetime achievement award of the President's Medal for Storytelling.
Their first book of Creative Nonfiction, SALTY BABY became an instant best-seller and was nominated for Best Newcomer at the Irish Book Award. Orla's work is also featured in the Junior and Leaving Certificate English textbooks.
WARRIOR, their documentary about their double lung transplant, was nominated for a New York Film and TV Award. The documentary was a concentrated work of creative activism that inspired over 10,000 people to sign up to be organ donors and is frequently screened in schools around Ireland.
Their work has been published in The Irish Times, Small Orange Journal, The Irish Independent and The Wall Street Journal.
Orla currently works as an Arts Journalist and teaches sold out workshops in Creative Nonfiction at The Irish Writers Centre