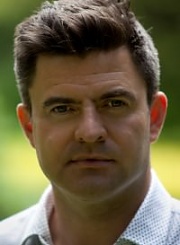 Joe O'Shea is a journalist, broadcaster and best-selling author, originally from Cork but living and working in London.
He has been writing for a range of national newspapers and working in broadcast media since he was 19-years-of age, first as a news reporter and then as a feature writer and columnist.
Joe's first role on television was to co-present an afternoon show on RTE1 for two seasons. And he has also devised and presented TV programmes including, most recently, a two part series for RTE2 guiding viewers through the top 30 billionaires and millionaires making up this year's Sunday Times Rich List – The Rich List. Also, an hour-long documentary for RTE2 on the Irish relationship with gambling and the rise of internet gaming, on which he was presenter and associate producer – The Gambling Gene. And The Perfect Irishman, about the new trend towards cosmetic surgery for men in Ireland.
Joe's debut book, the popular history bestseller, Murder Mutiny & Mayhem, was published by the O'Brien Press just before Christmas 2012. He is currently working on a second book.