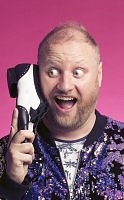 Fred Cooke delivers a unique brand of comedy through his musical prowess, physical storytelling and warm, affable stage presence.
Best known for his TV work, Fred has been a regular on the highly successful RTÉ shows, Republic of Telly, The Fear and The Tommy Tiernan Show. He was a semi-finalist on RTÉ One's Dancing With The Stars in 2019
His musical sketches are a constant success with several Republic of Telly| Hidden Camera Pranks going viral on Youtube.
Fred is a staple of the festival circuit, performing at countless festivals at home and abroad such as Electric Picnic, Kilkenny Cat Laughs Festival, Vodafone Comedy Festival and Edinburgh Fringe Festival. He has supported comedy legends Ardal O'Hanlon and Tommy Tiernan, and has shared the stage with comedy heavyweights like Eddie Izzard, John Bishop, Dara O Brian, Kevin Bridges and Sarah Millican.
He is also involved with the writing and production of the musical sell-out comedy: City West Side Story.
Check out www.fredcookecomedian.com for current tour dates and news.
"Fred was great, he really added to the event…I really appreciated what he contributed, he went down a storm and we have had lots of great feedback." Jam Media
"I love Fred, he has the real spirit of the Clown in him" Tommy Tiernan
"Fred Cooke is ready to step into the premier league of Irish funnymen" Hot Press
"Comedy genius; he has so much energy that he could power a small village in the west of Kerry" The Laughter Lounge
"A likeable, crazed and hilarious man, Cooke's Fred Space is a treasure of a performance" Shortcom