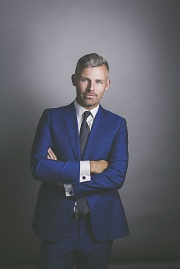 Since moving from Queens, New York to Ireland in his teens, Des Bishop has carved out a highly successful career in stand up and is one of the most enigmatic forces on the international comedy circuit.
He has a number of acclaimed television series on RTÉ including The Des Bishop Work Experience (2004), Joy in the Hood (2006), the award winning six episode comedy documentary series In the Name of the Fada (2008) and more recently, Des Bishop's Election (2016). In 2011, RTÉ broadcast the critically acclaimed documentary made with his terminally ill father, My Dad Was Nearly James Bond. In 2014 Des spent a year living in China learning Mandarin, as depicted in the six part documentary series broadcast on RTÉ, Des Bishop: Breaking China.
Des has released five stand-up DVDs including Des Bishop Live (2005), Tongues (2008) and Desfunctional (2009) and Made in China (2015) which all secured top ten positions. Des has also written two stage plays, Rap Éire and Shooting Gallery, in collaboration with Arthur Riordan. His first book, My Dad Was Nearly James Bond, a family memoir, was published by Penguin in October 2011.
As well as national and international tours, Des has performed at a variety of international festivals including the Montreal Just for Laughs and the Edinburgh Festival Fringe as well as at Kilkenny Cat Laughs and the Vodafone Comedy Festival in Dublin.
Much of Des Bishop's renowned television work can now be found on the RTÉ Player. His latest podcasts with the Acast network, The Shift and The Des Bishop Podcast are available online.
He is currently touring his new show Mia Mamma, a tribute show to his late mother.
Des Bishop is an impressive and engaging choice for any professional event. He has a wealth of experience in performing and hosting corporate engagements.
'Charismatic, sincere, eloquent and always seeking the angle' CHORTLE
'Funny, erudite and effortlessly delivered' THE SCOTSMAN, UK
'Edgy material snappy never sappy Bishop has judged this one beautifully' THE AGE, MELBOURNE
"My Dad Was Nearly James Bond…a triumph of a show…poigniant and passionate, yet never overly nostalgic, and best of all, enormously funny throughout." TIMEOUT, LONDON
"Des Bishop's control of the room is outstanding, he radiates warmth and energy." ***** CHORTLE
Twitter/ Insta/ FB: @desbishop
Website: www.desbishop.net