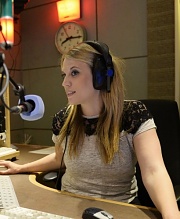 Della Kilroy is an award-winning broadcast journalist working with RTÉ.
She regularly reports for the RTÉ's flagship weekday current affairs show Drivetime and more recently Morning Ireland on RTÉ Radio One, as well as presenting and live reporting on other platforms across RTÉ and Virgin Media.
In May 2017 Della presented, UPFRONT: Domestic Abuse, a two-part mini-series examining the impact of domestic abuse on young women and in 2018 Della presented an hour-long television documentary The Big Picture: Young and Troubled examining access to youth mental health services across the country. Both series gained national coverage and a positive reception.
Her radio documentaries for RTÉ include Leaving Care, on the subject of teenagers struggling to survive when they left the state care system at eighteen. In 2012 she produced One World: Under the Mango Tree in the North East Democratic Republic of Congo. There she followed a community living with the aftermath of LRA violence and child soldier abduction. And in 2018 she won a silver trophy in the international New York Festivals Radio Awards in the 'Best Special Report' category for her Drivetime series Libyan Survival – Refugees Rescued from Sea. The series documented the journey refugees take fleeing Libya across the Mediterranean Sea.
Della was awarded a Justice Media Award by the Law Society of Ireland for her coverage of high court repossession cases in 2011.
In addition to her vast experience in broadcasting and voice over work, Della has hosted numerous public and private events for charities and leading Irish organisations. She has experience as an MC, interviewer and chair for conferences and panels on diverse topics from international issues to topics including homelessness and sex trafficking. She is a quick study, informed and an engaging presence for your event.
"Della brings her skills as a journalist to the fore, she is well-researched, polite but probing and isn't afraid to challenge weak or incomplete responses. As a chair she keeps everyone to time and at the same time ensures all panellists get a fair chance to contribute to the debate. We would definitely invite her to chair events in the future" IMMIGRANT COUNCIL OF IRELAND