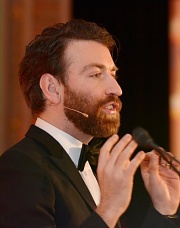 A critically acclaimed comedian, an award winning radio broadcaster and best-selling author, Colm O'Regan is one of Ireland's most in- demand after-dinner comedian. He also MCs awards ceremonies, corporate communications days and has acted as a panel moderator, bringing an entertaining touch to economics in Ireland, Europe and the USA.
He brings smart topical comedy to whatever audience he hosts and, in the case of MCing duties, is able to switch seamlessly between that humour and the business at hand.
He can adjust tone and content depending on the audience but still keep it sharp.
He has amassed a client list of nearly 100 of Ireland's foremost companies and organisations across all industries.
2018 work includes: Technology Ireland Industry Awards, Irish CX Impact Awards, Institute of Chartered Secretaries and Administrators, Kilkenomics Festival, Cancer Fund for Children Ball, The Blog Awards Ireland, The Irish Sponsorship Awards, KÅKÅnomics Festival, PwC Ireland, Building and Architect of the Year Awards, Circular Ocean Seminar, Carlow Business Picnic, Sales Champion Awards, Irish Pharmacy Awards, Wexford Business Awards, Irish Funds Annual Global Conference, Lidl National Achievement Awards, Irish Accountancy Awards, BWG XL Store of the Year Awards, Irish Logistics and Transport Awards, Media Awards, National Teacher Awards, Disciplinary Excellence in Learning Teaching Awards, New Ireland Assurance Centenary Celebration, HR Leadership & Management Awards, A&L Goodbody, SFA National Small Business Awards, Green Awards, Facilities Management Awards, Hostelworld Conference, Irish Australian Chamber of Commerce, Pendulum Summit, IFAC Accountants
"We were absolutely delighted with Colm. He was exactly what we were looking for. He was an absolute pleasure to work with and managed the night so well. From the beginning, he had the whole place in stitches laughing! Thanks a million for recommending him on your list back in September. A really successful night and a night that Colm made memorable.' PwC
"Colm was absolutely fantastic – he created a great atmosphere for our Ball, and we have received lots and lots of compliments on his behalf!" Plan International
"His talk was very well received, and we appreciate the research and effort he put into it. We will be recommending him to others." Córas Pipeline Services Ltd
"He was great. He really took my briefing on board and nailed it spot on. It was really really funny!" Mason, Hayes & Curran
Vist Colm's own website here.