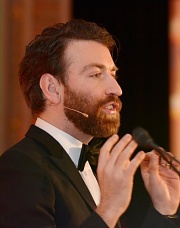 A critically acclaimed comedian, an award winning radio broadcaster and best-selling author, Colm O'Regan is one of Ireland's most in-demand after-dinner comedians. He also MCs awards ceremonies, corporate communications days and has acted as a panel moderator, bringing an entertaining touch to economics in Ireland, Europe and the USA. He brings smart topical comedy to whatever audience he hosts and, in the case of MCing duties, is able to switch seamlessly between that humour and the business at hand. He can adjust tone and content depending on the audience but still keep it sharp.
Since Covid, Colm has taken his skills to online events. While acknowledging it isn't the same as in-person experience, Colm has used his skills and the technology available to bring laughter to thousands whether on Zoom, MS Teams, Google Meet, Inxpo and a variety of other platforms.
With a unique combination of fifteen years of stand-up comedy experience, ten years of humorous business, political, social commentary through the Kilkenomics festival, BBC Business, RTE Drivetime and nearly four hundred columns for the Irish Examiner, Colm O'Regan is the perfect choice to round off an online meeting or just a hard week at the office. Since lockdown started, he has already entertained employees and clients at companies such as Accenture, PayPal, Amazon, Intelligo, DocuSign, QuickBooks, NUIG's Bright Club and more
"This week saw the fabulous Colm O'Regan host, in his own inimitable style, our very own Funny Friday quiz. A phenomenal job with smiles and laughs the entire time. What a great way to start the weekend". Padraig Gill CEO Intelligo Software.
You may already have seen Colm get Zoom laughs out of none other than Roy Keane as part of RTE Comic Relief revealing Roy's first shift and the age he gave up smoking (11).
He has also started a podcast to make maths accessible, filmed sketches for the Executive Institute and along with producer Julien Clancy, brought the Dublin Story Slam to corporates and non-profits alike.
In addition to this, he has amassed a client list of nearly 100 of Ireland's foremost companies and organisations across all industries. Just some of the clients Colm has worked with in the past: Technology Ireland Industry Awards, Irish CX Impact Awards, Institute of Chartered Secretaries and Administrators, Kilkenomics Festival, Cancer Fund for Children Ball, The Blog Awards Ireland, The Irish Sponsorship Awards, KÅKÅnomics Festival, PwC Ireland, Building and Architect of the Year Awards, Circular Ocean Seminar, Carlow Business Picnic, Sales Champion Awards, Irish Pharmacy Awards, Wexford Business Awards, Irish Funds Annual Global Conference, Lidl National Achievement Awards, Irish Accountancy Awards, BWG XL Store of the Year Awards, Irish Logistics and Transport Awards, Media Awards, National Teacher Awards, Disciplinary Excellence in Learning Teaching Awards, New Ireland Assurance Centenary Celebration, HR Leadership & Management Awards, A&L Goodbody, SFA National Small Business Awards, Green Awards, Facilities Management Awards, Hostelworld Conference, Irish Australian Chamber of Commerce, Pendulum Summit, IFAC Accountants
"Colm O'Regan was just brilliant in everything. The feedback about his chairing skills keeps rolling in."
Sian Smyth, Dalkey Book Festival
"We have been working with Colm as the MC of our in-person events since 2013. And from the end of 2020 we have also been working with him on our virtual events and we are delighted with his ability to create a connection with our sponsors and attendees. He is very professional and always finds a way to make it personal to the audience through his comedy. We look forward to continue working with Colm and would highly recommend him as MC and presenter for both in-person and virtual events."
Thais Campos-Byrne
Director of Operations, Event Strategies