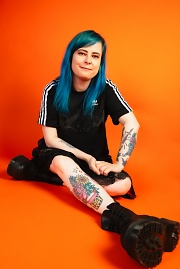 Aoife Dooley is an award winning illustrator author and comedian. She is also a graphic designer and public speaker.
Aoife is best known for her YOUR ONE NIKITA series which follows the life of a 22 year old woman and her friends from Coolock. She published two books with Gill books based on Nikita in 2016 and 2017 HOW TO BE MASSIVE and HOW TO DEAL WITH POXES. In 2018 Your One Nikita came to screens in an animated tv series for the RTE Player animated and produced by Digital Beast. Aoife has spoken at a number of events including Offset, Zeminar, Creative Events and more. She was a regular panellist on the Elaine show on Virgin Media and has experience with both live tv and radio. Aoife has also performed at festivals such as Vodafone Comedy Festival, Body & Soul, Electric Picnic and more. In 2017 she won U Magazines 30 under 30 award for best comedian.
In 2018 Aoife was diagnosed as Autistic at the age of 27. Since, she has spoken about her own experiences at many events which have resonated deeply with audiences. She has shared how a diagnosis helped her to truly begin to understand herself and has created comics and diagrams around the subject of what Autism is to her. Aoife published her first Children's book in 2019 123 IRELAND! with Little Island books which won Specsavers Children's book of the year at the An Post book awards. Little Island announced they are working on another book with Aoife, ABC IRELAND which will be published in 2022. In 2020 Scholastic UK acquired world rights to FRANKIE'S WORLD, a graphic novel based on Aoife's real-life experiences of autism. It was published January 2022 and with praise from the Guardian, the Irish Times amongst others went to reprint after a month of its release. Frankie's World is being published by Graphix books and will be coming to stores across the US in August 2022.
'Razor-sharp observational humour … has the zeitgeisty quotability of a contemporary Roddy Doyle.' The Irish Times
'How to Be Massive is funny, affectionate and very, very sharp. Almost social history and always great fun' Roddy Doyle
'Readers who like quirky, misfit heroes will snap up Dooley's warm, funny and original graphic novel, drawing on her own experience of growing up autistic.' The Guardian
"I loved Frankie's story and could really identify with her character. This is such an amazing graphic novel that represents neurodiversity really realistically." Libby Scott