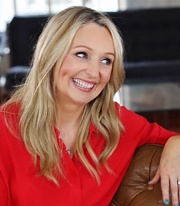 As a registered psychologist, columnist and media contributor, Allison Keating is a well known and respected psychologist in Ireland. Her bWell Clinic has been in practice since 2004. Over the last decade she has had a keen interest in destigmatizing mental health issues and is a major advocate of Positive Psychology, helping people access evidence-based strategies to lead a good life.
Her primary focus is de-stigmatizing mental health and she has been an active media contributor since 2006. She was the resident Psychologist on TV3's Ireland AM, The Morning Show and is currently resident on TV3's Sunday AM. She was also an expert relationship psychologist on RTE 2's 'Then Comes Marriage'.
Allison is also a regular on Ray D'Arcy's RTE Radio show where she answers listeners' relationship questions with her co-host Ray O'Neill. She is also a contributor to Dave Fanning, Matt Cooper and Ryan Tubridy's shows, and is frequently asked to comment on positive mental health, relationships, anxiety and parenthood.
Allison's non-fiction book, The Secret Lives of Adults focussing on the key relationships of adults was published in 2018 by Gill Books.
Allison's wishes to dispel the myths that surround mental health and as a result, she is an accessible and engaging speaker.
"We recently booked Allison to speak at an internal physical wellbeing and mental health event. The discussion was around the benefits of sports and outlets outside work to your overall mental health.
Alison's talk and panel interaction was thought provoking, engaging whilst also being humorous. It is not always an easy topic to discuss, however Alison was very well received by the audience and made it easy and comfortable for them to pose questions and engage in the conversation in a group scenario.
I would highly recommend Allison to anyone who is looking for someone to speak on 'Good Mental Health' and all the aspects of your life that contribute to that."
GRANT THORNTON EVENT, 2018