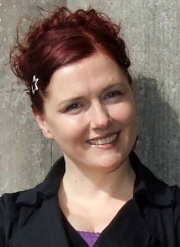 Jo is CEO of The Performance Corporation. Her work has been presented on 3 continents and won plaudits and awards internationally and nationally including a number of Irish Times Irish Theatre Awards comprising Best Director and Best Production nominations.
Selected directing credits for the company include: Slattery's Sago Saga (Dublin Theatre Festival and national tour), nominated Best Director, Best New Play and Best Actor in the Irish Times Irish Theatre Awards, Swampoodle, KISS USA and GAA! (Washington DC), Power Point (Dublin Fringe Festival and Tampere Festival Finland), Drive-By (Cork Midsummer, Dublin Fringe and Canterbury Festivals), Dr. Ledbetter's Experiment (Kilkenny Arts Festival and Edinburgh Festival Fringe), nominated Best Production Irish Times Irish Theatre Awards, Candide, Winner Special Judges Award, Best Actor and Nominated Best Director and Best Production Irish Times Irish Theatre Awards. Other theatre work includes Bogboy (Tall Tales), Winner Best Director Award 1st Irish Festival New York, Beware of the Storybook Wolves (The Ark) and What the Folk (Siamsa Tire).
Radio plays include The Flying Dutchman of Iniskill by Tom Swift (Nominated Best Drama PPI Radio awards). Films include A Life (Galway Film Fleadh); TV includes a Flann O'Brien special for TV3 The 3rd Policeman's Ball.
Jo has lectured, given workshops and presented on her work in most of Ireland's Universities, and is a graduate of the Samuel Beckett Centre in TCD. Prior to founding The Performance Corporation she worked as Producer for Fishamble. She is a board member of Riverbank Arts Centre, and has served on the boards of VISUAL Carlow, Theatre Forum and Fishamble. She was also International Programmer for Limerick City of Culture 2014, where Royal de Luxe was the leading element of her programme.
She was awarded the 2011/12 Jerome Hynes Clore Cultural Leadership Fellowship in the UK, and as part of the intensive year long programme, worked at the Barbican Arts Centre and the Irish Department of Arts.
In 2013 she founded and curated the BIG House Festival – Irelands first ever large scale site-specific arts festival involving over 250 artists and 6000 audience members, awarded the ERIC for Best Irish Festival 2013 as well as numerous nominations in the Events industry Awards and Business to Arts for Best Large Sponsorship. Most recently she founded Big House Productions which produced and programmed the 2014 Bram Stoker Festival Dublin also winner of the ERIC for Best Irish Festival in 2014.