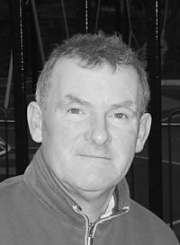 Padraig O'Neill trained at the renowned Druid Theatre Company. In 1989 he worked as assistant to designer Frank Conway on Jim Sheridan's Oscar nominated film The Field and since then has become an established and award winning production designer.
Art direction credits include Bloody Sunday, An Everlasting Piece, Sweety Barett, The Last of the High Kings and The Boxer.
Production design in film includes Bogwoman, A Womans Hair, The Daisy Chain, Savage and Occi Versus the World. He was winner of the 2003 IFTA Award for Spin The Bottle directed by Ian Fitzgibbon. He has collaborated with director Lenny Abrahamson on the award-winning films 3 Joes, Adam and Paul and Garage for which he received and IFTA Nomination for Best Production Design in 2008.
Design for television includes Fergus' Wedding, Showbands, The State of Us and the award-winning Bachelors Walk. In 1996 he produced the fine art animation film An Bonan Bui which won the animation award at the Celtic Film Festival.