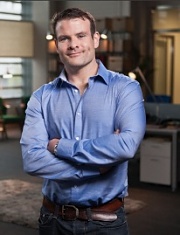 Tadhg is one of the UK and Ireland's most accomplished young journalists and presenters. He is best known for his latest roles on RTÉ One's The Consumer Show and as a correspondent/presenter on Sky News.
He was recruited to The Consumer Show as part of a 2013 revamp to increase its appeal to younger viewers. Among many little victories for consumers, his investigation into potentially dangerous Bosch dishwashers triggered a nationwide repair action to correct the fault.
Tadhg is also a journalist and presenter for Sky News and previously for RTÉ News.
During a tumultuous few years for the European economy Tadhg reported from Brussels, London and Dublin on the bailouts for Greece, Ireland, Portugal with a mission to crack through the Eurojargon and explain the stories in a way everyone can understand.
Having embarked on his broadcasting career in radio, Tadhg can also be heard presenting on Monocle 24 where world, business and design affairs get top billing.
He is a versatile broadcaster and is at home with light-hearted TV as well as news and current affairs. Click here for more material on Tadhg Enright.
"Tadhg did a fantastic job as MC and was a pleasure to deal with in the run up to the awards" Irish Exporters Awards, 2016