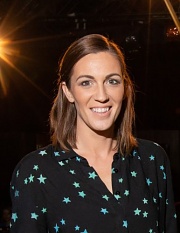 Suzanne Kane is a broadcaster who has worked for some of the most prominent radio stations in the country, she is a regular contributor on Newstalk, Today FM and various regional radio stations.
Along with her radio work in Ireland, she is a regular on The Chris Moyles Show on Radio X in the UK.
On TV, Suzanne is a familiar face as one of the regular contributors on Virgin Media One's Weekend AM.
Along with her radio and television roles, Suzanne has teamed up with the comedian PJ Gallagher to host Dubland The Podcast, which has reached number one in the ITunes comedy chart and sold out live shows with subscribers all over the world. As it reaches it's third year, each episode of Dubland The Podcast is downloaded over 15,000 times every fortnight.
Suzanne is also a talented voice over artist, and is currently the female station voice for Today FM.
Suzanne also writes her popular blog Suzisays and has written for Irish publications such as U Magazine and online outlets Mummy Pages and Her Family.