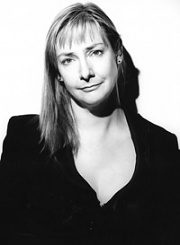 A hugely experienced public speaker, Pauline is often mistaken for a stand up comedian – something she has never done.
She has, however, been the popular MC of the Irish Times Theatre Awards for 4 consecutive years (for example) and has hosted a huge range of events, corporate and charity alike over the years.
On television Pauline is probably best known for her role as Mrs Doyle in Father Ted. In 2011/2012 she appeared as Amy Huberman's mother in the Comedy Central TV show Threesome.
Pauline's other Film & TV appearances include: Pramface (BBC), Father Figure (BBC2), Shameless (Channel 4), Jam and Jerusalem aka Clatterford (BBC), Ballykissangel (BBC), Angela's Ashes, Gypo, Noble, When Brendan met Trudy, An Everlasting Piece but to name a few.
Aside from a very long list of stage/tv/film appearances, Pauline has written 8 novels for adults and more recently, she has published 2 novels for younger readers.
Pauline is warm, witty and very experienced, making her an engaging and entertaining speaker and presenter.

© Fennell Photography Ltd
Click here to visit her website.