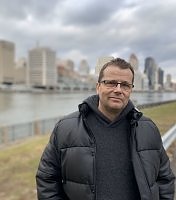 Paul Howard is a multi-award-winning journalist, author, playwright and screenwriter. He is best known in his native Ireland as the creator of Ross O'Carroll-Kelly, a fictional rugby jock whose exploits have been the subject of 19 satirical novels that have sold more than one million copies and won three Irish Book Awards.
He is the author of four hugely successful Ross O'Carroll-Kelly plays, which enjoyed long, sell-out runs and remounts in Dublin, Cork and Limerick. He also wrote the book and lyrics for two successful musicals: 'Anglo: The Musical', a puppet-based comedy about the collapse of Ireland's banks, in 2012; and 'Copper Face Jacks: The Musical', which enjoyed a sell-out run in 2018 and 2019.
Paul is a fun and engaging performer. His reading of Ross O'Carroll-Kelly adventures are intercut with funny stories and anecdotes gathered from his twenty-one years writing about the character.