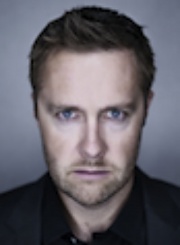 Since the start of 2012 Keith has been constantly touring with his new show 8 Deadly Sins. With over 55 sold out shows to date in Ireland, Keith is currently in residence in the Olympia Theatre in Dublin until the end of July. In August, he starts his first ever tour of Australia and New Zealand with his new show "Brain Hacker" and this takes in Sydney, Melbourne, Perth, Brisbane and Adelaide in Australia and Auckland and Wellington in New Zealand. September sees his final run ever of his 8 Deadly Sins in Ireland taking in over 15 venues along the way.
2011 was also an exciting year for Keith. He shot his new Discovery Channel series "Deception with Keith Barry" in LA and it premiered on Discovery USA on May 31st 2011. New episodes premiered on June 1st, June 8th and June 15th. The shows are now airing internationally. Also in July 2011, after the huge success of Keith's Asylum live show which closed in May 2011 having done 83 shows in Ireland, his brand new show "8 DEADLY SINS" set a box office record in the Olympia Theatre in July and August 2011.
Back in 2010, the pilot of Keith's TV show "DECEPTION with KEITH BARRY" aired on July 14th in the US on THE DISCOVERY CHANNEL and did so well in the ratings that it was picked up for a series which began production in Oct. Jan 2010 also saw the launch of Keith's live show "The Asylum" which went on to sell out 35 shows and along with an unprecedented 20-night run at The Olympia in July. This was his most outrageous, controversial and damn right funniest show ever and has been hailed by the critics as his best live work to date.
In 2009, Keith was awarded the prestigious Merlin Award for "Mentalist of the Year 2009" from the International Magicians Society. The Merlin Award is to magic what the Oscars are to movies with past winners of the Merlin Award being David Copperfield and Siegfreid & Roy. 2009 also saw Keith gaining the title "Best Magician in Las Vegas 2009" as voted for by the Las Vegas Review Journal show critics after he finished up an impressive 5 week residency at Planet Hollywood Resort and Casino to rave reviews.
On Dec 29th, 2007 Keith had his first UK Primetime ITV 1 show "Keith Barry – The Escape Live". Keith has appeared numerous times on The Ellen Show, The Jimmy Kimmel show and Sharon Osbourne and in the US and also on the Paul O'Grady Show in the UK.
Going back to 2006, after just one viewing of his live stageshow in LA, CBS offered Keith his own US TV Special "Keith Barry – Extraordinary". This was CBS's first magic special in over 15 years and followed on from the success of Keith's MTV show "Brainwashed".
Keith has now starred in over 40 international tv shows and they have been shown in over 110 countries around the world making Keith truly an international name and his star is still rising.
"It was my first time working with Keith and how impressive is he! His interaction with the audience was just amazing." Retail Excellence Awards
You can learn more about Keith by visiting his website, click here to visit it.