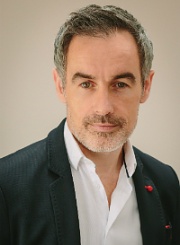 Jon is an award winning television presenter with expertise in travel, property and the equine world. Over the past 15 years he has presented and voiced a number of UK series including Holiday and Country File for the BBC, I Want That House for ITV1, Designer Homes and House in a Box for Discovery, Carfile, Used Car Heaven and Slipstream for Granda Men & Motors, and Tsunami – the Aftermath for Sky Travel. Prior to this he was a continuity announcer for RTE in Ireland and also presented a range of music and quiz shows for the broadcaster.
Over the past few years he has presented four series of Ireland's leading travel series, The Holiday Show. After initial broadcast on TV3 in Ireland, the series has been distributed internationally to broadcasters that include the Living Channel in New Zealand, LiTV in Thailand and Fox Travel in India. Both he and his co-presenter Ciara Whelan have been voted Broadcast Travel Journalists of the Year in 2010 and again in 2013.
Prior to his career in television Jon began his career in radio, becoming Head of Production at Radio Kerry at the tender age of 20. He subsequently moved to FM104 as Production Director before joining the senior management team that launched Ireland's national radio station, Radio Ireland / Today FM.
Currently, he is Managing Director of Trilogy Media Ireland and UK, a small production company that specialises in producing TV programmes, commercials and corporate films. He has also turned his passion for property into a business and has become a director of Clear Cove Developments, a property development company.