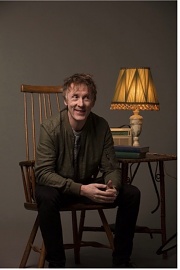 Over the last decade or so Hector has hosted & MC'd some of the countries biggest corporate events & celebrations. He has worked with some of Irelands biggest companies such as Microsoft , Bank of Ireland, Horse Racing Ireland Musgrave/Super Valu, The Ploughing Championships , Retail Ireland & Bord Bia. His unique & personable style of compere adds that little extra at events & we see clients returning year after year to book him.
"Hector has been an important part of many SuperValu & Centra events over the last number of years. We ask him back year after year because of his infectious enthusiasm and the fantastic rapport he strikes not only with the brand but also with our audience . From the off at any event , he holds the crowd in the palm of his hand, a true test of a great entertainer. He takes time to get to know client and is always appropriate and a true professional." Martin Kelleher, MD at SuperValu
Hector has been entertaining the country on radio over the last few years, first with his hugely popular weekend show with Tommy Tiernan, then he continued to "keep er lit" on acclaimed breakfast show on 2fm & now has resumed radio duties with his brand new "Sunday Sittingroom" on Today FM.
Hector has won multiple IFTA awards with his shows have spanned 15 years on our screens. His television shows range from the Horse Racing hit "Only Fools Buy Horses" and "Hanging with Hector" to the series where he immersed himself in sub cultures all over the country "Hector Goes".
"Natural, professional and humorous delivery…really engaged and entertained the guests. You brought great energy to the event and the guests really enjoyed how you involved everyone on the night." David Fitzsimons, Chief Executive of Retail Excellence Ireland
"Hector was superb and mixed with our wonderful guest speakers. It was a night to remember." The Insurance Institute
"Hector was simply outstanding at this event, so relatable, prepared and enthusiastic! " AbbVie
"It is such a pleasure to work with Hector… Everything flowed seamlessly, the way he connects the dots, interacts with the audience, keeps things interesting, exciting, fun and moving along. He is just brilliant." Retail Excellence Awards