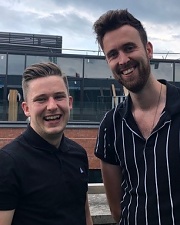 Graham and Nathan have been presenting the breakfast show on SPIN 1038 for the last three years. They have been working at the station for six years- quickly moving up the ranks from a Sunday evening show to the biggest slot considered in the schedule. Their show won GOLD for 'Best Breakfast Show' at the 2019 IMRO Radio Awards along with two silvers at the same awards in 2018.
Both met in DIT while studying a 4 year BA in Film and Broadcasting. Their years of friendship and undeniable 'on air' chemistry have led to comparisons to 'Ant and Dec'. They recently received worldwide recognition for their interview with Matt Damon while he was in lockdown in Dalkey and appeared on several prominent TV shows including ABC's 'Good Morning America' and 'The Late Show' with Stephen Colbert on CBS. Their content videos over the years have amassed over a million views online across various platforms.
Graham and Nathan have also had successful brand partnerships while working on SPIN 1038. They have engaged in creative multi-platform campaigns with the likes of Harvey Norman, Maltesers and Red Bull.
Both men are no strangers to TV- contributing regularly on 'Elaine' (Virgin Media one). They've also hosted nights interviewing the cast of RTE's show 'Love/Hate' and spent an evening with BBC Radio Presenter Annie Mac.
So far in their short careers they have interviewed the likes of Ed Sheeran, Niall Horan, Macklemore and Gavin James.
Graham and Nathan are available for brand partnerships, as well as MCing launches, award ceremonies, panels and other corporate events.