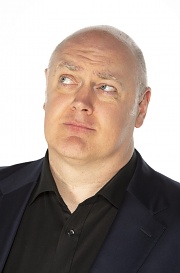 Dara Ó Briain is one of the UK & Ireland's favourite stand-up comedians and television presenters.
Dara is also one of the most sought-after award show hosts in Britain and Ireland, with an enormous reputation as host to award ceremonies and corporate events.
He regularly hosts the BAFTA Games Awards as well as the European Advertising Awards in the Grosvenor Hotel's Great Room, the Meteor Awards in Dublin and the Empire Film Awards.
An experienced entertainer and renowned comic, he is the perfect host for corporate events.
Genuinely imaginative and ridiculously funny" (The Independent)
"Dara will be most welcome back in future…Dara got a great reception when he finished…continuous smart fun which reached everybody. We just loved Dara's work throughout" *Airport Operators Association
In Television , he is best known for hosting the hugely successful Mock The Week. He hosted the hit shows Robot Wars, Stargazing Live , Dara and Ed's Great Big Adventure and Dara Ó Briain's Go 8Bit. Comedy Central's Blockbusters and as well as RTÉ 2's The Panel.
Dara is one the few performers to host successful comedy shows in both the UK and his native Ireland at the same time. He started his career in television as a children's presenter on RTÉ whilst performing his first stand-up gigs on the Irish comedy circuit, after studying Mathematical Physics at University College, Dublin.
He tours regularly, and has performed shows all over world, from Moscow to Sydney, Tromsø to Malta, and has recorded five live DVD's for Universal Pictures.
Dara is back on tour with his latest show, "So… Where Were We?"
At the end of his last tour "Voice Of Reason", Dara had performed the show 180 times, over 2 years across 20 countries
A masterclass in intelligent stand-up (The Guardian)
Ó Briain's solo shows just get better and better (The Observer)
This is 100 per cent, grade A, pure uncut stand-up – and it's simply brilliant.
Ó Briain's simply an astonishingly funny comic, hitting scorching form." ***** www.chortle.co.uk
Dara released the bestselling book Tickling The English in 2009. His non-fiction children's book about space, Beyond The Sky, was nominated for Best Book with Facts at the 2018 Blue Peter Brook Awards. In 2018 Dara wrote the follow up book, Secret Science – The Amazing World Beyond your Eyes, which was received with great critical acclaim.
His latest book Is There Anybody Out There? , was released in 2020 . A hilarious illustrated book where Science fiction meets science fact.
Click here for Dara Ó Briain's website.