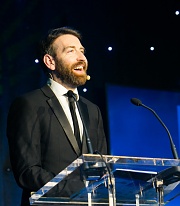 A critically acclaimed comedian, an award winning radio broadcaster and best-selling author, Colm O'Regan is one of Ireland's most sought after event MCs and after-dinner comedians.
Colm O'Regan brings smart topical comedy to whatever audience he hosts and, as MC, is able to switch seamlessly between that humour and the business at hand.
He brings his skills from the comedy club to bear in spontaneous and funny audience interaction that energises a room but is never personal or makes audience members uncomfortable.
Colm MCs awards ceremonies, corporate communications days and has acted as a panel moderator, bringing an entertaining touch to events of all types in Ireland, Europe and the USA.
With a unique combination of fifteen years of stand-up comedy experience, ten years of humorous business, political, social commentary through the Kilkenomics festival, BBC Business, RTE Drivetime and nearly four hundred columns for the Irish Examiner, Colm O'Regan is the perfect choice for your event.
Over the past decade he has amassed a client list of nearly 100 of Ireland's foremost companies and organisations across all industries.
Recent Clients Include – Bord na Mona, LinkedIn, Green Awards, Sisk Supply Chain Awards, Cork County Mayors Ball, The Irish Logistics and Transport Awards etc.
Colm O'Regan is a best-selling and critically acclaimed broadcaster, author, comedian, and now self-confessed Climate Worrier
He is the author of seven best-selling books including the Irish Mammy trilogy, Bolloxology and the two Ann Devine novels – the latest of which is the novel Ann Devine Handle with Care ('A heart-warming Irish tale provides a much-needed lift in spirits' Sunday Times 'very funny' Irish Times) and Climate Worrier (A winning combination of drily hilarious and thought-provoking, often all at once.' – SUNDAY INDEPENDENT)
He hosts Ireland's most successful storytelling night the Dublin Story Slam and is resident MC at Inn Jokes, one of Dublin's longest established Comedy Clubs as being an after dinner comedian and MC for Ireland's top companies.
As a stand-up comedian, he has performed all over the world. His stand-up has also featured on RTÉ's Late Late Show and on Comedy Central.
Colm has written and presented the multi-award winning RTE 1 Radio comedy show Colm O'Regan Wants A Word since 2016. ('An excellent series presented by the Cork genius' Irish Independent). In recent years he has started his own podcast ; The Function Room about maths and numbers. (he doesn't like large crowds)
Colm writes a weekly column about 'everything and anything' for the Irish Examiner.
"Colm O'Regan was just brilliant in everything. The feedback about his chairing skills keeps rolling in."
Sian Smyth, Dalkey Book Festival
"Colm is a total professional to work with and a fantastic MC/host.
He can control a room while keeping the crowd laughing, a real skill in itself! Having worked with Colm for the last two years (2018/19), the feedback from guests at our event has been 100% positive, with many remarking he is the funniest host/MC they have ever experienced. I highly recommend Colm to anyone and I look forward to working with him again in the future."
— Una Fitzpatrick, Director, Technology Ireland
"Colm's act was highly entertaining, appropriately satirical, very funny and aptly pitched for a business audience."
— Conor Morris CEO, Executive Institute
"This week saw the fabulous Colm O'Regan host, in his own inimitable style, our very own Funny Friday quiz. A phenomenal job with smiles and laughs the entire time. What a great way to start the weekend". Padraig Gill CEO Intelligo Software.
"We have been working with Colm as the MC of our in-person events since 2013. And from the end of 2020 we have also been working with him on our virtual events and we are delighted with his ability to create a connection with our sponsors and attendees. He is very professional and always finds a way to make it personal to the audience through his comedy. We look forward to continue working with Colm and would highly recommend him as MC and presenter for both in-person and virtual events."
Thais Campos-Byrne
Director of Operations, Event Strategies