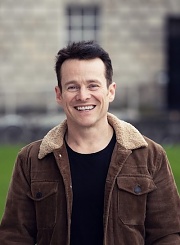 Brian Pennie is an inspiring and evocative spokesperson on mental wellness.
On October 8th 2013, Brian Pennie experienced his first day clean after 15 years of chronic heroin addiction. Instead of perceiving his addiction as a failure, he embraced a second chance at life and went to university to study the complexities of human behaviour.
He graduated with a degree in psychology in 2017 winning several awards, including a fully funded PhD scholarship in Trinity College Institute of Neuroscience. Since then, he has become a lecturer in both Trinity College and University College Dublin, a published academic writer, international blogger, and speaker on mental wellness, high performance and personal growth. Brian has also successfully launched his own self-development company. His first book, Bonus Time, was released in 2020.
With a relentless belief that we are what we think, his mission is to show people that change is possible, demonstrating actionable steps through a lived experience. Brian is an engaging and fortifying speaker for any audience.
"Without a doubt, one of the most impactful speakers I have had the pleasure of listening to in my career. Through his own personal change journey and the story he tells, Brian sets himself apart from all other speakers. His authenticity is utterly compelling."
Mark Doyle – CMO AIB
"Brian's style of delivery is very personal and raw, making for an extremely compelling narrative. Everyone wanted to hear and learn more."
Bernard Byrne – CEO AIB
"Brian speaks from the heart and shares powerful insights, combined with great wit and charm that are applicable across all aspects of your life. He brings you on a road trip that fills you with every emotion possible."
Ciaran Boyle – Head Of HR at AIB