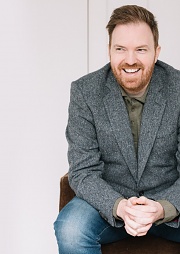 Bernard O'Shea is an Irish Writer, Comedian and Broadcaster.
He is a twice published author. His first book, My Wife is Married to a Feckin' Eejit was a bestseller. He currently writes a weekly feature column for the Irish Examiner and is a regular contributor and content provider across digital and traditional media.
Bernard has voiced and worked on advertising campaigns for Vodafone, Lidl, The National Lottery and MacDonalds as well as various other clients over the last 16 years.
In radio he co-hosted Breakfast Republic on 2FM for five years and previously IRadio Breakfast. He currently provides content to the Dermot and Dave show on Today FM as well as being a regular contributor on RTE Radio 1.
Bernard wrote, starred and produced the hit RTÉ TV series Bridget and Eamon and was most recently seen on RTÉ's Marty and Bernard: On the Road Again and more recently Bernard's Working Comics.
Bernard is currently developing short and long form scripts with Shinawil Productions and Kite Entertainment as well as working on a 3rd non-fiction book How to be Incredible Average.(Life's answer to Happiness) as well as freelancing as a creative writer and copywriter.
"Great set, very clever and suitable" GLOBEREACH LOGISTICS LTD
"The depth of his freewheeling comic talent is obvious." THE SUNDAY TIMES
"Left-field imaginative but not up its arse lovely comedy." HOTPRESS MAGAZINE
"One for the future amazing routines from out of nowhere and beautiful crafted songs." THE IRISH INDEPENDENT
"Bernard O'Shea is a fizzing, iridescent ball of sheer energy; a fast-talking, fast-thinking comedian who invigorates a room with his presence." CHORTLE
"More than any show I have seen this Fringe, I desperately want to see it again. It is O'Shea's first show in Edinburgh and is endlessly delightful and surprising. glorious vulnerabilities and fabulous impromptu raging that reminds you how extraordinary stand-up can be." ***** THE SCOTSMAN
Bernard's own website: bernardoshea.ie
Twitter: @boshea5