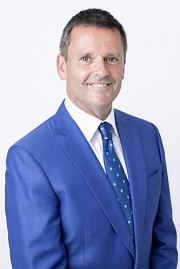 Aengus who hails from Dublin has over 30 years experience working as a Newscaster and broadcast journalist at RTÉ in Dublin.
Aengus first worked as a Radio News reporter before moving to Television reporting where he spent several years on the Foreign Desk, the Oireachtas Unit and the Home Reporting Desk. Aengus who is fluent in Irish, also worked as a reporter and newscaster for RTÉ's Irish language News service, Nuacht.
Aengus was appointed full time newscaster in 1999 and worked on all television news output, including presenting the 1 O'clock Lunchtime News, Six-One Evening News and the 9 O'clock Main Evening News.
In January 2013 a technical error led to Aengus becoming a viral sensation around the world as he applied last minute touches to his make-up, unaware that he had prematurely been put live on-air!
Later that same year Aengus's cooking skills were put to the test with five other contestants on RTÉ's Celebrity Masterchef. He withstood the heat of the kitchen taking second place at the final which was held in Dubai.
Aengus further demonstrated his warm personality with comfort and ease as he undertook other programmes outside the newsroom. A keen walker, he took to the by-ways and walking trails of Connemara to present an episode of the walking programme, Tracks and Trails.
---
Enjoying working with a live audience, Aengus has worked as MC and Facilitator at various Award Ceremonies and Charity Events. These include, Pride of Place Awards, Fingal Mayors Award, Oireachatas Media Awards and the Tip O'Neil Irish Diaspora Awards.
---