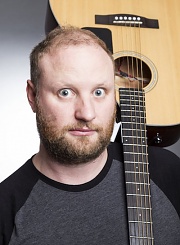 Downloads
scroll to see all

High Res
[2.52MB]
Screen Res
[400px]

High Res
[868.68KB]
Screen Res
[400px]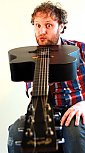 High Res
[387.98KB]
Screen Res
[400px]
Fred Cooke delivers a unique brand of comedy through his musical prowess and wild crafted physical story telling.
He has work on The Tommy Tiernan Show both on RTÉ and 2fm.
Fred became a regular on the highly successful RTÉ Show, The Fear. He has been seen preparing a choral spectical surprise at a proposal in the Electric Picnic, embarrassing one of his fans at the Vodafone Comedy Festival, and proposing to an unexpected lady in Dublin City Centre.
His musical sketches are a constant hilarious success with his Republic of Telly Hidden Camera Prank reaching 1,661,213 hits on Youtube.
His collaboration on Ireland the Musical brought him around every county in Ireland through music and surreal sketches. It now stands at over half a million views.
Fred has frequently been invited to perform at the largest and most successful festivals both here and abroad, including the Cat Laughs Comedy Festival, the Vodafone Comedy Carnival, Edinburgh Fringe Festival, Tampere Comedy Festival in Finland, London Irish Comedy Festival, Kells Hay Festival, Mayo Summer Festival, The Trim Satire Festival.
He has supported his comedy hero, Ardal O'Hanlon on his massive nationwide tour. He has also performed alongside such high profile acts as Tommy Tiernan, Eddie Izzard, John Bishop, Dara O Brian, Ross Noble, Kevin Bridges, Sarah Millican, Jason Byrne, Neil Delamere and Des Bishop.
Fred Cooke has rapidly become a unique stand-up delivering a style of comedy that simply cannot be imitated.
He made his debut on English television with the second series of the BBC Show Vexed.
Fred has already contributed to a variety of successful Irish TV shows, both as a writer and performer, including RTE's The Fear, Republic of Telly, The Savage Eye, The Cafe (as The Crazy Chef), Watch Your Language (The Mad Professor), The Modest Adventures of David O'Doherty, and The Liffey Laughs.
He has also regularly been the warm-up act for many different television chat shows including The Late Late Show, The Podge and Rodge Show, The Republic of Telly, The Craig Doyle Show.
He is also involved with the writing and production of the musical sell-out comedy: City West Side Story.
"I love Fred, he has the real spirit of the Clown in him" TOMMY TIERNAN
"Fred Cooke is ready to step into the premier league of Irish funnymen." HOT PRESS
"comedy genius; he has so much energy that he could power a small village in the west of Kerry" THE LAUGHTER
FREDLINER 2017 TOUR DATES
5 October: Kavanaghs, Portlaoise
13 October De Barras, Clonakility
3 November Visual, Carlow
10 November: The Fence, Mullingar