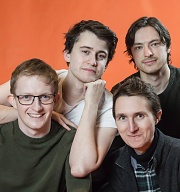 Dreamgun is a comedy conglomerate founded in 2014 by Stephen Colfer, Gavin Drea, Heber Hanly and James McDonnell. Their series of short films, including Millennials, Gym Gravy and Back in Town have been viewed by people on their phones at house parties over 289,808 times. Two more views and YouTube will give them a free hat.
Dreamgun made their Edinburgh Fringe debut in 2015 with their sketch comedy show, Chaos Theory. Their follow up show, Mimes in Time, had a sell-out run at Dublin Fringe Festival and was nominated for the Bewley's Little Gem Award, which it did not win. Got a free hat though.
They now spend their days writing and performing Dreamgun Film Reads, a comedy show where they take a beloved film script and stuff it full of jokes and nonsense. Each script is then performed live by actors and comedians who haven't had a chance to rehearse beforehand. Film Reads was the first show to sell out at Dublin Fringe 2017.
"You have to adore movies to be able to savage them quite as hilariously as Dreamgun…consistently sharp, rapid-fire funny writing, crackling performances" ***** THE IRISH TIMES
"I love Dreamgun so blooming much" DAVID O'DOHERTY
"Hilarious live read-throughs of brilliantly rewritten film classics" DARA Ó BRIAIN
"The best comedy at Edinburgh Fringe 2015, inventive and varied, and brilliantly performed!" THE SUN
"Light-hearted and hugely entertaining comedy" THE LIST
"Hugely entertaining and bizarre, Dreamgun Film Reads represents the best of the Fringe" MEG.IE