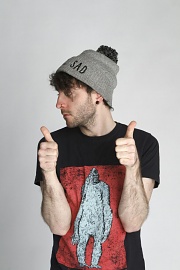 Since first performing stand up at the age of 18, Davey has gone on to perform at every major Irish comedy festival, including the Cat Laughs, Forbidden Fruit, Longitude, Vodafone Comedy Festival, and Galway Comedy Carnival, as well as supporting Hannibal Buress in Vicar St. In addition to developing a reputation as a witty and intelligent act, he is a comfortable and affable MC.
In 2016 he made his debut at the Edinburgh Fringe with his show Dysmorphin' Time!. Following the Fringe, he toured the show to sold out crowds in Dublin, Cork, London, and New York.
One of the stars of Facts. (voted "Ireland's Best Youtube Channel") he has appeared on RTÉ, BBC, MTV, and in the pages of The Washington Post and Cosmopolitan. With over 800000 subscribers and well over 200 million views, Davey has gained a global following.
He has found success outside of comedy, having produced the short film The Omega Male, which premiered at the Cannes Film Festival in 2014. He has also written, produced, and directed a number of music videos, including co-writing the video for Someone New by Grammy-nominated artist Hozier.