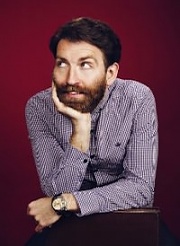 Downloads
scroll to see all

High Res
[949.86KB]
Screen Res
[400px]

High Res
[339.39KB]
Screen Res
[400px]
Comedian, bestselling author and broadcaster, hailing from the small Co. Cork village of Dripsey, Colm O'Regan has stood up and made people laugh all over the world.
Colm's debut book Isn't It Well For Ye, The Book Of Irish Mammies is already a bestseller and was nominated for an Irish book award. It's warm and funny observations are a hit with people of every gender, age and background (Available here at Amazon)
It sprang from the equally successful @irishmammies twitter account which Colm authors. Set up in early 2012, the account has more than 215K followers making it one of the top 40 accounts in Ireland.
His comedy festival appearances include the prestigious invite only Montreal Just For Laughs, the Kilkenny Cat Laughs, Electric Picnic and many, many more. He has played all over Ireland and the UK and even as far away as Cape Town, Tokyo and Osaka and appeared on The Late Late Show.
Colm has a long and growing list of TV and Radio writing and performing credits.
TV
Comedy Central – The World Stands Up
RTE – The Only Viking In The Village – scriptwriter (IFTA award winner)
Today Programme – Panellist
2Tube – Interviewed
Craig Doyle Show – Panellist
Late Late Show – Comedy Performance
Lucy Kennedy Show – Panellist
Radio
BBC World Service – Weekly Radio Column for In The Balance (Wincott Award Winner 2011 Best coverage of current affairs)
Business Daily – Radio Columnist
Newshour – Contributor
World Business Report – Contributor
BBC Radio 5 – Live, Contributor
BBC Radio 4 – Today Programme, You and Yours, The World Tonight – Contributor
RTE Radio 1 – Weekend On One, John Murray Show 2nd Republic (comedy scriptwriter) The Mooney Show (live standup)
2FM Dave Fanning Show – contributor
Newstalk 106FM – Contributor
Colm runs a monthly comedy night – Inn Jokes at the Patriot's Inn in Kilmainham which has been graced by the likes of Tommy Tiernan and Ardal O'Hanlon.
He also writes a weekly column for Cork's largest news and lifestyle weekly 'The Cork News and has written for The Irish Independent, the Irish Times, The SUnday Times, The Sunday World and the Examiner.
Colm is much in demand as an MC and awards ceremony host having kept audiences entertained at events as diverse as the Business Start Up Awards, I Love Radio and he was also the audience warm up for the recording of Mrs Brown's Boys in Glasgow.
Corporate clients include Accenture Ireland, AXA Insurance, Hewlett Packard, Abtran, Ernst and Young, IIU, Social Media Awards, Web Awards, and sports organisations such as Blackrock, Wanderers and Lansdowne, IRFU, Bohemians, Na Fianna, Erin's Isle GAA, ICAD, StartUp Awards, Irish Association of Health Stores (IAHS), Fertiliser Association of Ireland,
What they said:
"subtle and nifty… his set is a gentle pleasure…genuine hilarity" Chortle
"This man has a phD in stand up comedy!" Laughter Lounge Dublin
"An effortless talent..funny, resourseful and inventive ****" The List
"deadpan with hilarious consequences" The Irish Times
"so funny he could reduce a 19th Century Russian novelist to tears" Hot Press
"[the book of Irish Mammies] is a hoot…Everyone will love it" Barbara Scully, writing.ie