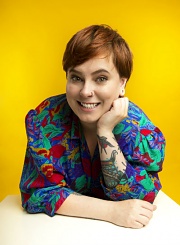 Aoife Dooley is a 5ft freelance illustrator, graphic designer, author and comedian from Coolock, Dublin. 
Aoife is best known for her 'Your One Nikita'  (formally known as Dublin Hun) Illustrations which chronicle the life of a 22 year old woman called Nikita, best friend Tanya and boyfriend Anto. She published her first book 'How to be massive' October 2016 with Gill books and her second in 2017 'How to deal with poxes on a daily basis' and is currently working on a Your One Nikita animated TV series with RTE.
Aoife gigs regularly in Dublin along with performing at festivals such as the Vodafone Comedy Festival, Body & Soul, and Electric Picnic. She has gigged alongside PJ Gallagher, David O'Doherty, Jason Byrne, Alison Spittle and American comedians Al Lubel and Chris Redd to name a few. She won U Magazines 30 under 30 award for best comedian in 2017 after only a month on the scene.
Aoife is an Autistic activist and openly shares her experiences of being diagnosed as Autistic at the age of 27, neurodiversity and how a diagnosis helped her to truly understand herself. She believes she would not have achieved what she has to date if she was neurotypical.
She also speaks openly about mental health and her struggles over the years with the loss of her mother and soon after biological father and how she copes. She was shortlisted in two categories for U magazines 30 under 30 awards 2018 for social contribution and activism.