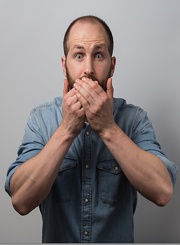 Cavan man Aidan Greene is undoubtedly Ireland's foremost stammering comedian. Since starting comedy in 2010 he's become a regular in comedy clubs across Ireland. Along with this he has played at major festival including the Vodafone Comedy Festival, Longitude, Indiependance and the Edinburgh Fringe.
He had a sold out run at the 2017 Edinburgh Fringe Festival with his show (500) Days of Stammer , a one man show about stammering and falling in love. The show was performed to acclaim in Dublin, Albuquerque and most importantly, Cavan. He co-hosted Cavan the Craic, a stand up compilation show, with fellow Cavan comedian Davey Reilly to full rooms at the 2016 and 2017 Edinburgh Fringe festivals.
As well as a comedian Aidan is also an accomplished storyteller. In 2016 he was runner up in the Moth Grandslam in Dublin. His story The Early Days of Stammer was featured on the Moth Radio Hour and broadcast on over 400 radio stations globally, to a listenership of over 30 million. In October 2017, he was invited to speak at National Stammering Awareness Day.