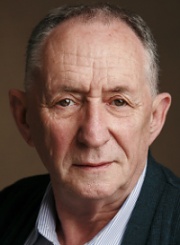 *to download videos, click play, then click the arrow on the upper right corner of the screen
Tom was born and reared in Kerry. His Theatre work includes Big Maggie, Soldiers in the Abbey Theatre. Philadelphia Here I Come and Tarry Flynn in the Tivoli Theatre. He has also appeared in the musical Gypsy and Devil's Own People in the Gaiety Theatre. Other Theatre work includes, Beauty and The Beast, The Stone Pickers, The Puppet of Ludz, The Billy Club Puppets, Lake Horses and 16-91.
Film work includes Rawhead Rex, The Green Journey , Moll Flanders, Zanzibar, Horse, The Big Swinger, Hostage, A Strange Request, Windows of Wonder, Coming Out, The Bible Basher, In View, Lead Us Not, and Dead Along The Way .among Tom's T.V. credits are Love/Hate, Fair City, The Adventures of Young Indiana Jones, Treaty, Making The Cut, Making News, The Real Charlotte, Scarlett, The Governor, Fatal Inheritance , The Mannions of America and Nighthawks.