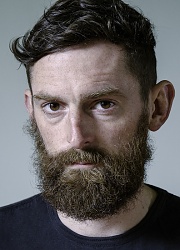 Tim's one man show, Spliced was last seen at this year's Edinburgh Fringe Festival, and on tour around Ireland. See dates here .
Tim trained at the Oxford School of Drama.
Film/TV credits include:
Maze (Lionsgate), An Klondike/Dominion Creek (Netflix), Fir Bolg (TG4), Animal (Short Film), A Date for Mad Mary (Element Pictures), Éirí Amach Amú, Scéal, 1916 Seachtar Dearmadta, Scúp (TG4), The Hatch (Short Film), Jack Taylor (Telegael) & My Brothers (Treasure Entertainment).
Theatre credits include:
An Triail (O'Reilly Theatre), Lovers (The Everyman), Looking for Work (Project Arts Centre), An Impossible Address (Smock Alley Theatre), Mantle (Granary Theatre), How to Find Us (Soho Theatre) & Othello (North Wall, Oxford).