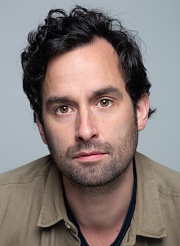 'Stephen began his acting career with Druid Theatre Company when he appeared in John B. Keane's 'Big Maggie', playing the role of 'Mick Polpin, directed by award winning director Garry Hynes.
His film work began shortly after, when he appeared opposite Julliette Binoche in 'A Thousand times Goodnight'.
Film credits to date include Donal Foreman's award winning 'Out of here' produced by Stalker films; 'How to be Happy' where Stephen played the lead role of Alan Kavanagh and the film was winner of best international feature film at the Garden State Film Festival; and the romantic comedy 'Love Rosie' with Lily Collins and director Christian Ditter
Upcoming films include 'Darkside of the moon' with award winning director Shimmy Marcus; 'Daddy Pig' by director Kenny Leigh and 'Black River' with director Patrick Ryan.
A member of The Factory's actor's studio, Stephen also spent a year on 'The Programme' working alongside directors Lance Daly (Kisses, Life's a Breeze) Kirsten Sheridan (Disco Pigs, Dollhouse) John Carney (Once) and Shimmy Marcus (Soul Boy).'
Stephen is based in London.