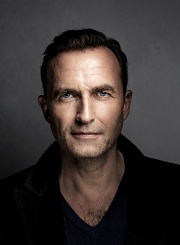 *to download videos, click play, then click the arrow on the upper right corner of the screen
Stephen Hogan was last seen on screen in The Foreigner opposite Jackie Chan & Pierce Brosnan.
Stephen recently wrapped filming the recurring role of Padraig Kelly in REDWATER (BBC) directed by Jasper Nielsen and due for broadcast in late 2016 on BBC1. He has also recently shot roles on WE HAVE ALWAYS LIVED IN THE CASTLE (Sony Pictures) and on Michael Bay's TRANSFORMERS, THE LAST KNIGHT (Paramount). Other recent TV includes THE TRIAL OF THE CENTURY (TV3) and X COMPANY (CBC), other recent feature includes THE YOUNG KARL MARK and HANDSOME DEVIL (Treasure Films, soon to feature at TIFF 2016).
Other screen work includes the leading role of Bensley in_Flatlake_ by Pat McCabe and Kevin Allen, directed by Kevin Allen. He appeared in the recurring role of Eric Ducann in Injustice opposite James Purefoy, directed by Colm McCarthy for ITV. Stephen appeared in the leading role of Sky Marshall Anoke in Starship Troopers 3: Marauder directed by Edward Neumeier for Bold Films/Stage 6(a division of Sony Pictures) on general theatrical release. Also, the Iraq based thriller Agape (directed by Heath Jones for Koralis Pictures) features Stephen in the lead role of American hostage Adam Smith; while season three of The Tudors aired on Showtime (USA) and BBC2 (UK), TV3 (Ireland) and worldwide which features Stephen as series regular, Sir Henry Norris. Stephen appeared as Robespierre in Terror! Robespierre and the French Revolution for BBC TV. On stage, Stephen recently appeared in The Field opposite Brian Dennehy, directed by Joe Dowling for the Gaiety Theatre, Dublin (and tour). Stephen will appear in the next season of Primeval (ITV) as guest lead Henry Merchant and will soon appear in the feature film Earthbound (Rippleworld Films) as Dr. Richard Webb. He most recently appeared as Thomas Andrews in Saving the Titanic for Tile Films/RTE.
Born in Dublin, Stephen has worked extensively in UK and Irish, Theatre, TV film and radio. His appearances at the Abbey include, Algie in Conall Morrison's hit production of The Importance of Being Earnest, Translations, Saint Joan, Macbeth and Angels in America. At the Gate he's appeared in Sharon's Grave, The Heiress and Pride and Prejudice. UK theatre includes Sondheim's Merrily We Roll Along (Derby Playhouse); Peer Gynt (National Theatre); Playboy of the Western World (Liverpool Playhouse); The Magic Toyshop (Shared Experience); Possible Worlds (Tron, Glasgow);The Cherry Orchard(Theatre Babel), A Doll's House, Medea (Theatre Babel); Richard III (Leicester), Fast Food, The Philadelphia Story (Manchester Royal Exchange); The Cavalcaders (Thetre Clwyd); The Soldier's Tale (Traverse Theatre); Beauty and the Beast (Edinburgh). Films include Benedict Arnold; Field of Honour; Vicious Circle; Some Mothers Son; The Plant; To Kill a Nonce. Recent TV work includes The Line of Beauty (BBC); Totally Frank (Channel 4); Doctors (BBC); Fair City (RTE); High Road, Dr Finlay (ITV) Stephen is a regular performer for BBC Radio having performed in numerous comedies, classic serials, single dramas and The Archers; and has been a member of the BBC Radio Repertory Company. He most recently appeared on stage in Ireland in John B Keane's The Field opposite Brian Dennehy, directed by Joe Dowling at the Gaiety Theatre, Dublin and on tour.
Stephen is represented in the U.K. by CAM, please contact Dawn Green at www.cam.co.uk
---
Voiceover sample 1
| | |
| --- | --- |
| Listen: | |
| Download: | |